One of the best things about living in Beijing is how close I am to one of the Wonders of the Modern World – The Great Wall.
There's a famous saying from Mao Zedong about the Great Wall: "不到长城非好汉" (Bú dào Chángchéng fēi hǎohàn). 
This translates to: "He who has never been to the Great Wall is not a true man."
A friend of mine from Guangzhou came to Beijing  for a business trip and had never been to the Great Wall before.  She told me: "I need to be a true woman! Let's go to the wall!"
So we did.
There are many sections of the wall to choose from, depending on how far you want to drive, how much you want to pay, and how many people you want to run into. We chose to go to the Badaling Section because it's easiest to get to on public transportation and one of the more popular sections to visit.
HOW TO GET TO BADALING
There are a few different ways to get to Badaling. I went by train, which was fairly straightforward.
Take line 8 or line 13 to Huoying Metro Station (霍营站)
Use Exit G4 and walk to the Huangtudian Railway Station (黄土店站)
Buy a ticket for an S2 train to Badaling (7 RMB – you can use a Beijing Transportation Card to pay if you have one!)
1.5 hour train ride to Badaling Section
You can also take a bus there, which costs about 20 RMB one way.
BADALING GREAT WALL
The Badaling Section of the Great Wall is one of the most completed sections and very well preserved! This makes it a popular section to visit, and it even has lots of souvenir stalls, snack shops, and a KFC right outside!
Admission Fee:

Opening Hours:

Apr. 1 to Oct.31

:

06:30-19:00

Nov.1

to

Mar.31

:

07:00-18:00
There are two parts to Badaling: the North Side and the South Side.

North Side
12 Towers
Cable car goes up to the 8th Tower
More popular to visit
South Side
7 Towers
Cable Car goes up to the 4th Tower
Less popular than the North Side
RECOMMENDED TIME TO SPEND AT BADALING
It's possible to spend only 3-4 hours at Badaling, especially if you arrive early in the morning and can move at a steady, moderate pace.
If you need more time for photos and want to relax,  allow yourself more time. We spent almost 5 hours on the wall because we hung out on the South Side for a bit enjoying the views and taking lots of photos without many people!
With some careful planning (and waiting) we were able to take some fun photos!
PROS/CONS OF BADALING
Pros
Easily accessible by public transportation
One of the best-preserved and most complete sections
Lots of handrails make it easier to climb
2 Cable cars to the North Side and South Side
Cons
Because it's easily accessible and cheaper to get to, it's way more crowded than other sections of the wall! You will have to fight a bit for some space and will find it a bit difficult to get photos without others around.
TIPS FOR VISITING BADALING
The South Side is less crowded and just as (if not more) beautiful as the North Side! Go there first and wait for the crowds to die down on the North Side. By late afternoon there were far less people there.
Bring snacks – there is food to buy, but is a bit expensive
There's a cable car up and down both sides if you don't feel like climbing
The train times we found online were a little different than what the actual train times were, so allow yourself time to be flexible in case! You may even spend a long time waiting for a train. We went back to the train station at

5:00 p.m.

and had to wait for the next train at

5:40 p.m.
Time Schedule
7:45 a.m.

Arrive at Huoying Metro Station and take Exit G4


9:15 a.m.

Train leaves


10:30 a.m.

Train arrives at Badaling, buy tickets


11:15 a.m.

Start Climbing the South Side


2:00 p.m.

Climb the North Side


4:00 p.m.

Walk down the Wall


5:00 p.m.

Arrive at the Train Station


5:40 p.m.

Train leaves


7:00 p.m.

Train arrives at Huoying Metro Station


7:30 p.m.

Metro back home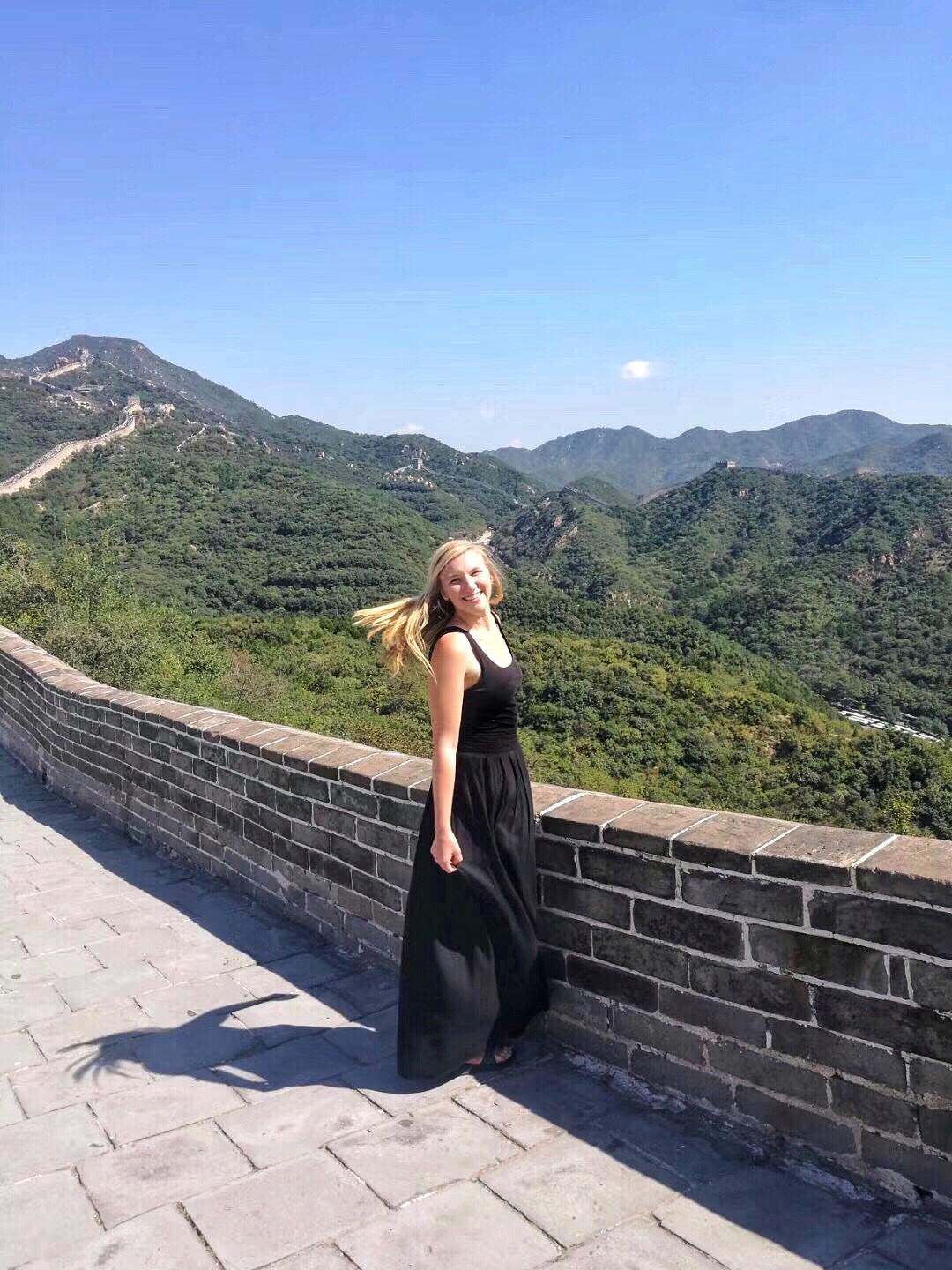 VISIT BADALING
Overall I had a fantastic trip to Badaling! It was very different than my experience at the Jinshanling section of the wall I visited a few years ago. Even with lots of people, the views were still stunning and it was a fantastic day for climbing the Great Wall. It's now my goal to visit the other sections and see how they compare!
Have you been to The Great Wall? Which section did you visit and how was your experience there?