The Jiangling Village in Wuyuan County, Jiangxi is famous for its terraces full of yellow rapeseed flowers that bloom every spring. From late March to early April, the entire Wuyuan county will be covered with these bright yellow canola flowers, and Jiangling is said to be the best village to view them.
I've been wanting to come to Wuyuan for years to see these flowers and finally had the chance. This March 2023 I traveled here for a quick weekend trip, and it didn't disappoint. The flowers were fully in bloom, and the weather, while still not warm, was very moody and fantastic for walking around.
Here is a guide for visiting Jiangling Village, including how to travel here, where to stay, and where to see the best views of the rapeseed flowers!
When To Travel To Jiangling, Wuyuan
The peak season for the flowers is from the end of March to beginning of April. I traveled here during the weekend of March 18-19, 2023, and the flowers were ready and fully bloomed.
Just be cautioned this means many other visitors will also be here, but it's 100% worth it in my opinion. You can find ways to avoid the crowds and have space to yourself (as I hope to show you in my photos and videos!)
Check the Flowers Blooming Time: Some people told me that the weekend before I went the flowers weren't fully in bloom yet, so it's best to do some research if you're trying to go in Mid March or Mid April, when the flowers may have not yet bloomed or already passed their season.
Hint: I try to check real time photos from a place in advance, like for example seeing if these flowers had bloomed yet. So I go to photo sites and search through recent location photos. I look on Instagram first, but in China there may not be as many recent posts from a site. So usually, Chinese apps like Xiaohongshu (Little Red Book), Douyin, and Dianping, will have way more recent posts and comments from other travelers.
How To Get To Jiangling Scenic Area
Location: Jiangling Village, Wuyuan, Jiangxi (Chinese Name: 江岭风景区 上饶市婺源县)
Jiangling Village in Wuyuan County is located in the eastern part of Jiangxi, right next to Anhui Province. There are a few route options to travel here:
Flight: Fly into Jingdezhen Airport or Huangshan Airport
Train: Take a high speed train to the Wuyuan Train Station
Driving: Rent a car to drive yourself through the villages
After arriving, it's best to hire a car or take a taxi to go to the exact scenic village you want to visit.
China Highlights has a great map and guide that helped me plan: Wuyuan Travel Guide.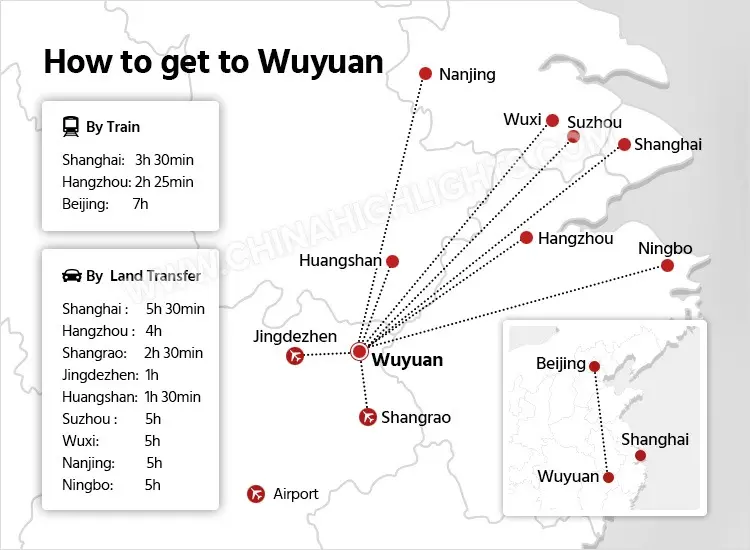 My route: I took a flight from Beijing to Jingdezhen Airport (2.5 hours), then took a taxi from Jingdezhen to Jiangling Scenic Area (1 hour 40 minutes). It's a bit pricy to take a taxi (366 RMB + toll fees for us one way) but the most convenient and direct route.
Thing To Do in Jiangling Village
The Jiangling Scenic ticket costs 80RMB. Jiangling officially has several Scenic Platforms for viewing the flowers. Most groups start at Platform 1 and 2, which are at the top of the mountain. You have an overview of the terraces from above, which is just stunning. There are also several shops and facilities here.
There are paths leading down the mountain to the next scenic spots. You walk through a little village of shops and hotels and reach another scenic area. There's platforms going through the flowers, and even a little train that was running in the flower fields.
Check out my YouTube video of my experience in Jiangling and Huangling Village in Wuyuan!
View from Platform 1
View From The Middle of the Way Down
View From The Bottom of the Mountain
This lower area is where our hotel was, and it was a beautiful view to wake up to in the morning.
Honestly there are so many paths and routes around the flowers, so even if you come during peak time just go off the main path to find a spot to yourself.
There's even more platforms to explore here if you keep going down the mountain as well!
Other Villages Nearby
Wuyuan is home to many other ancient villages that are worth seeing as well! After Jiangling, I visited Huangling Village. You can also check out Likeng Village, Wangkou Village and Jiangwan Willage.
Where to Stay in Jiangling
There are several hotels in the area.I book hotels using Ctrip. We stayed at the Jiangling Garden Hotel, which felt very much like a homestay.
It was a very basic hotel with few amenities but it was a fantastic location to wake up and be right next to the flowers and had everything we needed for just one night. It was easy to walk up to the No. 1 & 2 viewing platform for a view above the terraces. The owner was lovely as well and made us breakfast and lunch.
Overall, we had an incredible time visiting Jiangling, and I'm so happy I finally could cross it off my China Bucket List!