Huangling Village is a collection of ancient Hui-style buildings nestled into the side the mountainous scenery of Wuyuan County, Jiangxi Province. It's.a fantastic place to view scenic landscapes, enjoy cultural activities, and also see the flowers that bloom in spring (油菜花 yóucài huā).
I just took a short weekend trip here with my partner Nathan in March of 2023 to see the flower terraces in the nearby Jiangling Village, and decided to also visit Huangling since it was not too far. Check out my post for how to get here and what to do in Huangling!
When to Visit Huangling Village
Both spring time and autumn are popular times to visit Huangling. In the spring, the yellow rapeseed flowers and cherry blossoms are blooming, and in autumn people will dry out crops on the rooftops, creating a beautiful fall site.
Check out my travel vlog about visiting Huangling Village and Jiangling Village in Wuyuan!
How To Get To Huangling
Huangling Village in Wuyuan County is located in the eastern part of Jiangxi, right next to Anhui Province. There are a few route options to travel here:
Flight: Fly into Jingdezhen Airport or Huangshan Airport
Train: Take a high speed train to the Wuyuan Train Station
Driving: Rent a car to drive yourself through the villages
After arriving, it's best to hire a car or take a taxi to go to the exact scenic village you want to visit.
China Highlights has a great map and guide that helped me plan: Wuyuan Travel Guide.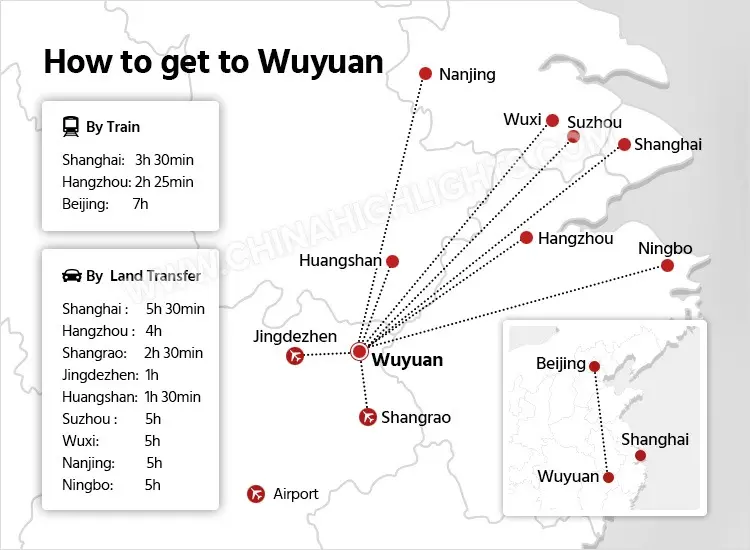 My route: I took a flight from Beijing to Jingdezhen Airport (2.5 hours), then took a taxi from Jingdezhen to Jiangling Scenic Area (1 hour 40 minutes). From Jiangling it was a 50 minute drive to Huangling Village.
Things to Do in Huangling Village
Built on a hillside, Huangling Village is a cool place to explore, with lots of cultural crafts and coffee and tea shops to visit and paths to explore. There are also lots of great windows and vantage points to look out from.
There are two ways into Huangling: from the Xiaoyongcun village side and going across a giant bridge, or the main entrance side where there is a cable car. We crossed the bridge from the Xiaoyongcun side because it's close to where our hotel was. There's also a zipline you can go across!
Once inside, there is a main path that will lead you through lots of shops and stalls for snacks, tea, and even coffee! It's a rare thing to see coffee at tourist sites, especially more rural ones like this.
When you get further in, the path will divide into many different routes going up and down through the village. Have fun exploring!
Just be warned if you come during peak travel season (Spring) especially on a weekend! Here's an experience in Jiangling we had, but it was the same in Huangling. It's still possible to find your own space away from crowds, just takes extra maneuvering.
Where to Stay in Huangling Village
There are several hotels nearby the entrance to Huangling Village, and there are also many scattered throughout the scenic area and on the other side in a village called Xiaoyongcun.
We stayed at Yinyuanli Hotel in the Xiaoyongcun area, and the owner picked us up at the Huangling main entrance to drive us around the mountain to Xiaoyongcun and finally through a maze of houses to the hotel. The next morning the owner helped take us to Xiaoyongkou Tourist Center to enter Huangling Village.
Tip: I recommend adding the hotel owner on WeChat after you book a hotel! This was super helpful in contacting him and having him help pick us up. Some remote areas might be hard to navigate.
I definitely recommend visiting Huangling for a village getaway, and checking out the other villages in Wuyuan as well!